The most awaited heartfelt moment has come, Mother's Day is truly a day worth to celebrate with our beloved one and only Mother. It never came across our mind of how many sacrifices they have made to keep us alive and feel safe, to feel her warmth and endless comfort. As we grow up, we did not realize how many ups and downs with her that shaped us through with who we are today. Despite of all that, a mother is undeniably great at multitasking. Other than taking care of us, they also need to splurge on themselves; starting from beauty, lifestyle, and sure one thing we know is how they put an outfit as a Mom
About a week ago, we had an interview with Raissa Ng! A super stunning Mom juggling with her work, college, family (most importantly is taking care of her adorable son named Jed!).
We asked a few questions about her styling tips, inspiration, what she has became right now, and how she just know how to handle everything, here are the Q&A session:
Raissa is wearing Clarissa Top in White and alice shorts in Pink
Q: What do you like about this outfit?
A: As a breastfeeding mom, I need loose top to make it easy to breastfeed my baby anytime anywhere. This top really makes me comfortable in all ways, easy access for the baby and the fabric is very soft. Also the pants!! It's wide so it is easy for me to run and catch my baby (haha). A mom should not only focus on the baby but also need to focus on her mood too. Dressing up as comfortable as I can, boost up my mood and of course when le mommy is happy le baby will be happy too :)
Raissa is wearing Boston from @eyeofra.id and Amelia Top in Pink
Q: What inspires you everyday?
A: Inspiration could came from anything, believe it or not, nowadays posts from instagram has inspired me a lot. Mostly from moms who love to share DIY activities for kids, food recipes and tips on parenting. Everyday I struggle a lot thinking of what to cook tommorrow for my baby. I am not a good cook, I rarely cook before Jed was born and now I have to prepare baby friendly food and this stressed me very much. So the inspirations I am looking for these days are mostly easy to cook baby foods. Thanks to those moms on instagram who share their menus :)
Jedson is Wearing Boston from @eyeofra.id
Q: How has motherhood change you?
A: Motherhood is something I never imagined before. Before Jed came, I can do anything anytime anywhere, but now I can only do things while he is asleep. It is soooo hard to have 'me time' right now as Jed got no nanny and I have to take care of him all day long



Raissa is wearing Arika Dress in Grey and Denmark shades from @eyeofra.id

4. Q: . On business, how did it all begin? how did you come about doing what you do now?
A: When I first graduated from highschool, I was so clueless, didn't know what major to take, which uni to go etc. I decided to go for Fashion Design course in ESMOD Jakarta. I thought design would be easy because i dont have to remember or calculate numbers, all i have to do is draw and create clothes. But my thought was totally wrong, 3 years in achieveing Diploma in Fashion Design and Pattern Making was not easy at all, but hey I survived.
I've done several internships during uni, from woman's gown designer, garment company to children's wear brand and I started making custom made gowns after I graduated from ESMOD. After I graduated, then comes this clueless moment again. I didn't want to go to work under somebody because I also have my own clothing line and made by order line. Then my parents suggested me to go for another school, law school.
I survived another 3.5 years of achieving my Sarjana Hukum (cum laude haha so proud of myself) and now I am a student of magister of Public Notary in Universitas Indonesia. People might ask why from design to law, my answer will be, why not? Thanks to my parents for giving me a lot of support in studying, the more the skills you have will make your life better (i believe in this).


Thus, having kids does not mean stopping from what you want to accomplish in life! It may seem unbelievable but hey! As long as the passion is still there, the spark will be there too.




Hey peeps, if you are wondering where is that one spot in Singapore you can take multiple ootd shots while cafe hopping, look no more! You can easily find cafes that are insta worthy along the stretch of victoria st.

Love this old school rustic vibe with the sliding door as background. It is located just beside Symmetry cafe where they serve awesome coffee waffles. Take note that for food photo taking, it's recommended that you sit outside for natural lighting as the cafe is more to the dim-romantic feel.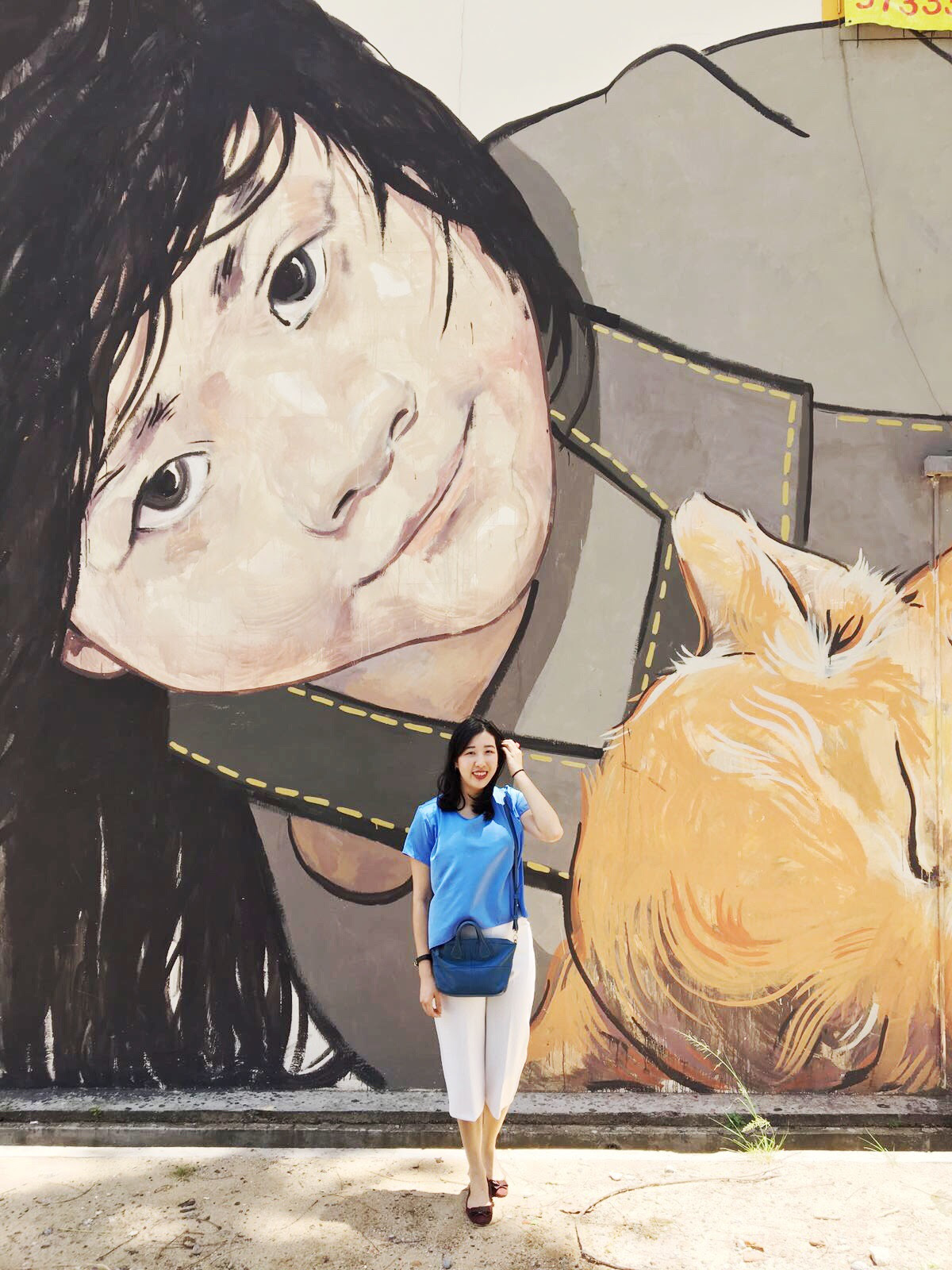 Next up, if you walk towards Bugis Mrt, you will find this giant mural of a girl holding the cat. I just had to stop to take some pictures but as you can tell, the wind is not my best friend that day.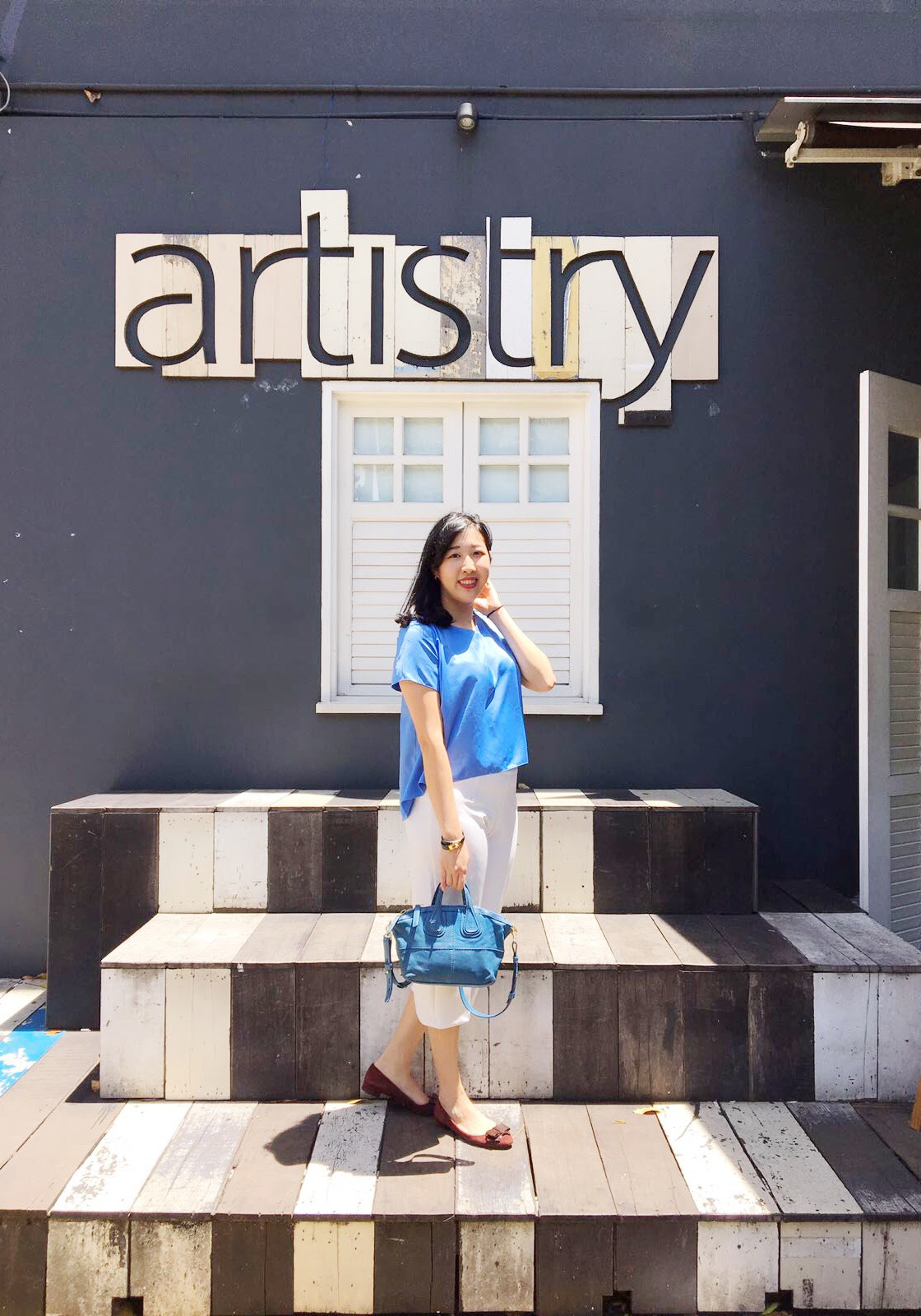 Walking along, you can't miss Artistry cafe with it's big signage, steps, tall tables and chairs outside. The sign itself is a very good ootd point.
If you are feeling like having super food on that day, they serve the best kale! It's crunchy, it's healthy!

However it's not just about the ambiance that makes a good OOTD shot.

Tips for taking ootd:
Lighting (saves time on editing and it'll look more natural)
Know your angles!
Plan your outfit to match the place you're going to take ootds at (yep, it's not that simple guys)


About Ingrid:
I was born in Jakarta, Indonesia and moved to Singapore when I was 10. I flew off again to Sydney, Australia to pursue my degree (best time of my life). Here I am again back in Singapore, working.
Why do I start blogging?
I wanted to create a portfolio for myself about the things that I really love and passionate about (beauty, fashion, food) and hopefully I'll make new friends (readers, bloggers, etc.) along the way.